👉👈 Dispatch #04
What's been up since 8/27: NSOP, finding study buddies, and the future of Columbia Connect.
💬 From the Columbia Connect Community
As we mentioned in our bonding sessions and Course Registration Social last week, Columbia Connect has been laying low during the week of NSOP to give you all more time to fully enjoy the (virtual) NSOP experience. We hope that you all have been having an EXCELLENT week, have met new freshmen that you vibe with, and have picked out courses for the semester that you're super excited about.
🚨 With NSOP concluding this Saturday, we have decided to resume our regular weekly socials next week, on 9/13 to give you all a little break from all that socializing! We'll be sending out more details about it early in the week. This Saturday also officially marks one month of Columbia Connect being live! We'll be sending out an additional email to everyone that has signed up detailing our plans for the year so make sure to keep your eye on your mail inbox! We know that there is a ton of uncertainty surrounding what this year is going to look like, even the next couple of months seem like something of an abyss, but Columbia Connect is here to make sure that we all get to have a space where we can share our passions and interests and meet cool new people this year.
🎉 NSOP Bingo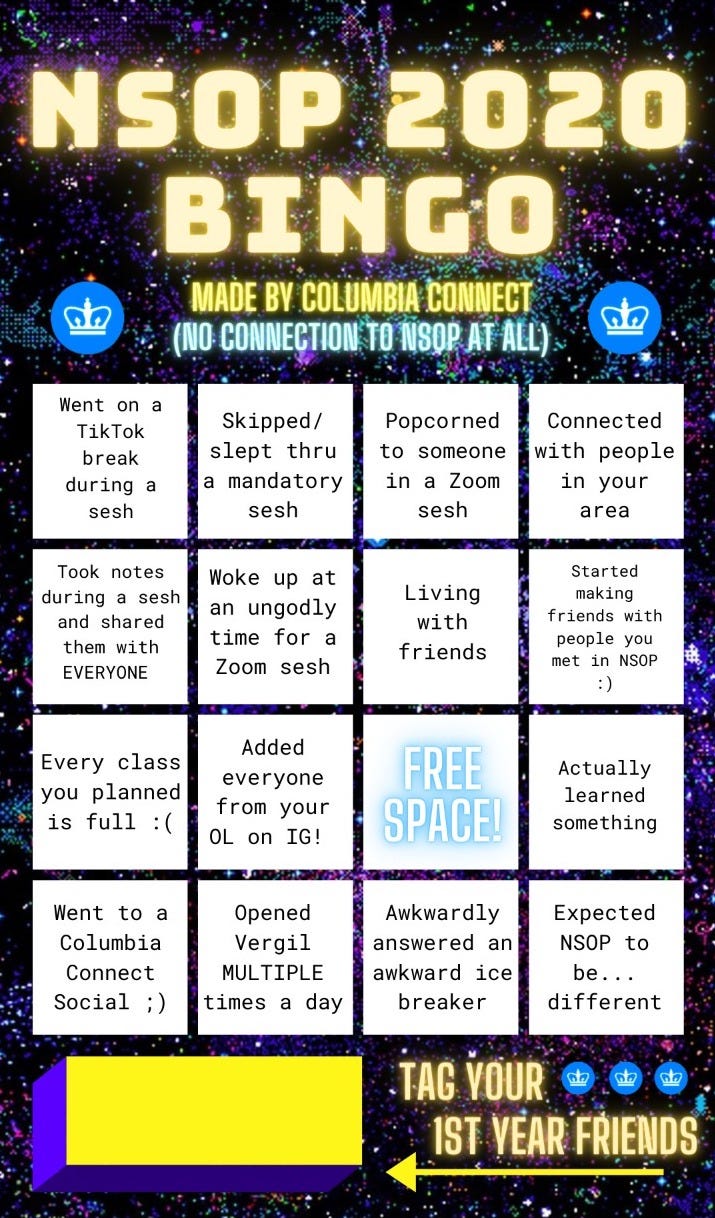 You may have seen our NSOP bingo making an appearance in people's Instagram stories this week. Whether orientation has been melting your brain or you've genuinely been having a great time this week, feel free to use our template to share your experiences with fellow Columbia/Barnard freshmen!
📚 StudBud
Worried you'll find yourself all alone at 3:00 AM simultaneously crying, trying not to fall asleep, and doing HW @Columbia this semester? 😅💻📚
🎉🤩 Don't worry, StudBud is here to help! Studbud is the easy way to find study buddies! 🎉🤩
StudBud was founded by several Columbia students this summer to help you make friends and succeed in your classes 🏆. Just fill out a short survey 💹📃with your class and study habits and StudBud's machine learning algorithm 💥💻 will place you into an awesome online study group with 3-5 of your classmates!! You'll Zoom each other to vibe, crush that p-set, and have the best semester ever! 😎😋
The deadline to join is 📅 September 12th, 11:59 PM, EST. Go to StudBud.org for more info and feel free to email studbud.columbia@gmail.com with any questions. Happy studying! 😊💻📚
#StudBud #StudyBetterBuddyBetter
🌀 To Live and Die on the Internet
We at Columbia Connect are not going to pretend as though we weren't Extremely Online pre-pandemic as well, but these new circumstances have taken our internet addiction to new and dizzying heights. Each week, we'll share a link or two to cool websites, virtual events, and online exhibitions we find interesting. Let us know if any of them particularly resonated with you! If you've come across anything cool that you would like to share with the community or have thoughts on a particular link we've shared don't hesitate to reach out!
This week's picks:
One of coolest music visualizers on the internet.
2. Poolside.fm
Welcome to the sunniest spot on the internet. Poolside FM is an online radio station, playing an infinity pool of summer sounds. Swimwear optional.
BONUS: Virtual Burning Man
Okay, so you may be sceptical about a virtual Burning Man festival but if you're intrigued by their principles (radical inclusion, gifting, decommodification, radical self-reliance, radical self-expression, communal effort, responsibility, leaving no trace, participation, and immediacy) then we would definitely recommend checking some of their events out.
---
Think your friends would enjoy this? Share our newsletter:
Questions for us or feedback? Let us know what you're thinking! We're currently working on other sections of our newsletter we think you may enjoy. If you have ideas on what you'd like to see contact us here or feel free to write to us at columbiaconnects@gmail.com