👉👈 Dispatch #05
What's been up since 9/04: First day of classes, internship features, yoga classes and more..
💬 From the Columbia Connect Community
We had the last of our group bondings!! Friendships were made, crushes developed, and numbers were exchanged. We hope you enjoyed these as much as we did!

We've had two socials since NSOP, our Course Registration (8/30) (where over 100+ of you came and bonded in different break out rooms named after classes, chatted with upperclassmen, and had all your questions answered) and our First Week Feels (9/13) social (where we chatted and reflected about our first week of classes, including the gossip on Hugh Jackman's appearance!).

We also had NSOP confessions last week where people shared their candid thoughts on the lead-up to classes.

Keep up with us on the gram for more SUPER FUN content!

90 minutes after our Course Reg social and we still had so many of you stay on 🥳
---
🌀 To Live and Die on the Internet
We at Columbia Connect are not going to pretend as though we weren't Extremely Online pre-pandemic as well, but these new circumstances have taken our internet addiction to new and dizzying heights. Each week, we'll share a link or two to cool websites, virtual events, and online exhibitions we find interesting. Let us know if any of them particularly resonated with you! If you've come across anything cool that you would like to share with the community or have thoughts on a particular link we've shared don't hesitate to reach out!
This week's picks:
September 21-27, 2020. Climate Week NYC 2020 will explore what lessons we can learn in the pursuit of a net-zero future through just transition. There will be highlights from over 350 events taking place across New York City and around the world!
2. Walking in a Heavy Thunderstorm at Night in NYC
I never jumped on the ASMR hype wagon but this video might change that.
3. The New York City of Our Imagination
An amazing and emotional interactive feature of the sights and sounds of pre-COVID NYC. If you don't have a New York Times subscription try viewing it in incognito mode!
How, where, and why do cities develop? Covering four centuries, these digital maps show how world cities changed alongside the changing art and science of cartography. Super interesting stuff.
---
🌟Student Spotlight
Meet Sky (she/her/hers), a freshman at Barnard planning to major in physics or polisci (very similar subjects, right?)
Find her on Insta: @skyler_jay_

Aspirations: not 100% sure career wise but just do something for the common good, maybe work for NASA and go to Mars

Motivations: rewatching my favorite indie/artsy/Timothee-Chalamet-starring films, reading all sorts of books, supporting equitable education in public schools, and flying on airplanes

Frustrations: the sad feeling you get after reading/watching a really good book/movie/show because the story's over :/ (for reference I just finished watching Normal People, haven't read the book yet though)

Fun fact: I've broken my tailbone twice!! Super painful, awkward, and inconvenient: 20/10 do NOT recommend

Currently on repeat: On Your Mind by Noah Floersch (he's from Nebraska like me and makes super good indie-ish music)
---
🎵 Chunes
Bored of your own music? Here's what we've been listening to.
---
💻 Internship Features
Still looking for internships? Here are some cool opportunities we found this week!
Girls Who Invest Summer 2021 Program (due 11/24)
UN SDSN The Lancet COVID-19 Commission Intern
Coalition of Asian American Leaders (CAAL) Organizing & Research Youth Fellow (due 9/18) & Civic Engagement Fellow (due 9/20)
TinkerTech Labs (UI/UX, Mobile Software Developer, Market Research and Community Manager roles open!)
---
📅 Upcoming Events
Course Registration Social, Sunday, September 20th at 12PM EST
Design@Columbia's Figma Fridays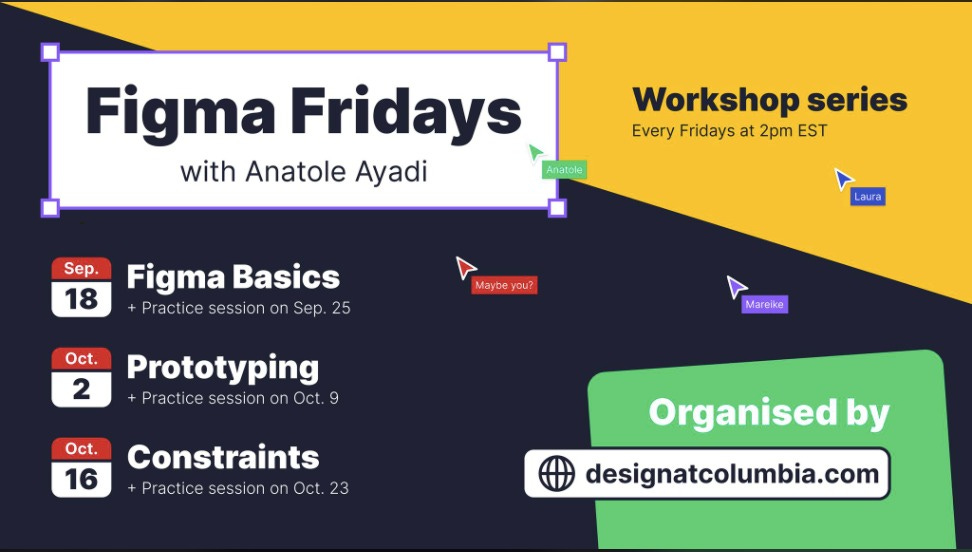 Hatha Yoga Class, Friday September 18th at 6PM EST
CUIMC's Musical Monday's
---
Think your friends would enjoy this? Share our newsletter:
Questions for us or feedback? Let us know what you're thinking! We're currently working on other sections of our newsletter we think you may enjoy. If you have ideas on what you'd like to see contact us here or feel free to write to us at columbiaconnects@gmail.com