👉👈 UPDATED: Dispatch #02
What's been up since 8/10: Hundreds of sign-ups, bonding sessions well underway, and one crying sesh later...
💬 From the Columbia Connect Community
We have been OVERWHELMED (in the best of ways) about how quickly Columbia Connect is growing. A lot has happened since our last newsletter:
Barnard and Columbia announced a virtual Fall 2020

Columbia Connect got its first round of funding! 🥳

We had our first community-wide social "sad timeZ cry hard" last Sunday, attended by ~100 students 🥺

We have matched over 400 students. Group bonding sessions have started for 50% of them.

The Columbia Connect team expanded 4x this week. Welcome to all our new Connectors, Happy Hour hosts, and first years!

Our Instagram is popping off with DM's and love from all of you
---
🌎 Where in the World…?
We started this on our Instagram this week and wanted to dedicate a section of our newsletter to this, now that college is virtual. If you'd like to meet up with other students in your area but don't know who's around, DM us and we'll shout out your city (you don't have to be based in the US) in our stories and connect you with those who respond. You can also email us if you're from the area!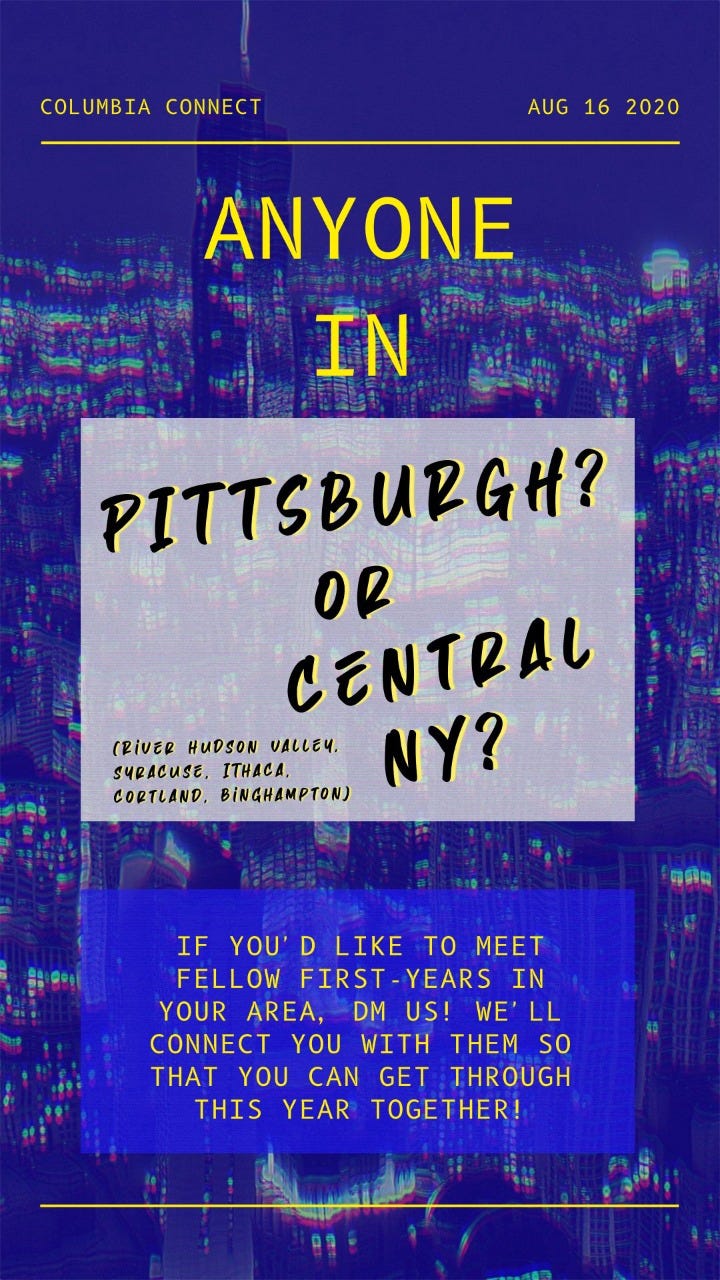 ✅ Our Tip of the Week
Tip #02: Interested in joining student clubs? Check out our Instagram where we'll be featuring clubs that are recruiting this year!
Are you a part of a club that you want featured on our Instagram? Write to us or DM us!
Here are a couple that you can check out:

---
🌟Student Spotlight
Meet Mel (she/her pronouns), an incoming freshman at Barnard College hoping to major in...everything

Find her on: Instagram

Aspirations: They change every week! Right now it's probably combining data visualization with art, or making art with code in general, and somehow helping change my country for the better, although still not sure about all the details

Motivations: making art with different mediums, PODCASTS, crazy good TV shows (just finished Umbrella Academy S2 and it is GOLD)

Frustrations: Haven't left the house in over 100 days, ain't that great????????

Fun fact: Once told an interviewer that my spirit animal is a giraffe because giraffes can pick their noses with their tongues (I was young, the interviewer had dreamy eyes, what can I say?)

Currently on repeat: Peach Pit - I love all their songs, so just pick one!
Want to be featured next? Let's do it! Send us a blurb in the above format at columbiaconnects@gmail.com and we'll happily feature you in our newsletter.
---
📅 Upcoming Events
This Sunday, August 23rd at 12PM EST!
We have a ton of bonding sessions lined up this week. Our team continues to dedicate itself to ensuring that you meet and interact with people we feel you'd hit it off with. We hope you're as excited as our Connectors are to bond and make new friends!
If you haven't signed up yet, don't worry - there's still plenty of time! Sign up now and we'll match you based on your preferences:
---
Think your friends would enjoy this? Share our newsletter:
Questions for us or feedback? Let us know what you're thinking! We're currently working on other sections of our newsletter we think you may enjoy. If you have ideas on what you'd like to see contact us here or feel free to write to us at columbiaconnects@gmail.com
*An earlier version of this newsletter contained a small typo regarding the date and time of our Happy Hour social. We hope you're able to make it!